Co-Creating a Deliberately Different Future through Business Agility
At EPiC, we use the "Enterprise Business Agility (EBA) Model" to drive all of our transformations, providing clear and simple guidance to our customers about how to lead their own Business Agility Transformation.
The EBA model is built around 7 transformation pillars (below) which cover all of the elements of the organisational change necessary to create a truly agile organisation.
While most transformation agencies focus on agile, we focus on whole of business transformation.
We accelerate your journey towards true business agility by enabling every individual, team, function, department and business unit to be part of the revolution. We work with and touch on all parts of your organisation because Business Agility isn't about agile… it's about survival.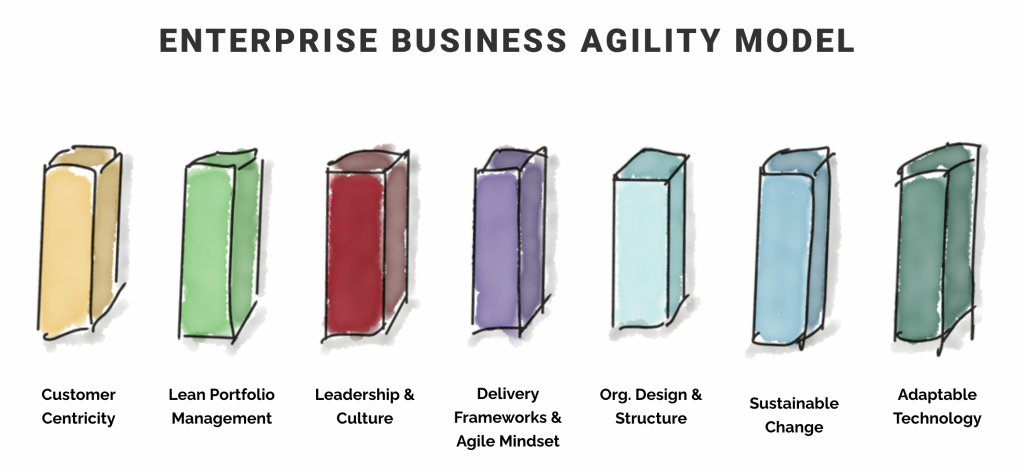 While we are passionate Agilists, we are much more passionate about helping our clients become dynamic, resilient, customer centric and purpose driven organisations.
We use the Enterprise Business Agility (EBA) model because it provides guidance on how to:
Transform the whole of their organisation (not just their projects)
Clearly assess where their organisation is today, against world's best practice
Build targeted and transparent transformation plans to iteratively close gaps in current capabilities
Articulate and align strategic priorities across your business and connect them through delivery
Provide increased transparency and visibility to improve data driven decision making
Enhance and evolve your most critical asset – your culture – to win in rapidly changing, disruptive markets.
If innovation, adaptability, and speed-to-market are key competitive differentiators in your industry, Enterprise Business Agility needs to be a core focus for your organisation.
Enter your details below to receive a free health check for your business using our Agilityhealth Radar Suite*
* This offer is available for new clients only.
Thank you! A team member will be in touch with you shortly
Full-stack Transformational Services Included
Transformation Strategy & Design
Transformation Leadership & Coaching
Business Operating Models
Organisation Design & Structures
Project Methodologies & Frameworks
Roles & Responsibilities & Capability Matrix
Change Management Strategies and Plans
Videographer / editing to capture and share the story
Transformation Health Checks to prove your success and identify gaps