The Future of Value Stewardship
At EPiC, we've seen many PMOs struggle with the challenges of Agile Delivery principles and the perception that they're a handbrake on delivery. But we also believe that there's a future for the PMO – one that's focused on value rather than day-to-day operations of projects.
That's where the VMO comes in.
The VMO is firmly rooted in its core values, placing a strong emphasis on value delivery above all else. Unlike traditional approaches that may be fixated on project operations and day-to-day tasks, the VMO's primary mission is to ensure that every initiative aligns with and delivers tangible, measurable value to the organisation.
To achieve this, the VMO places a premium on close alignment with the organisation's strategic objectives. This alignment enables the VMO to gain a deep understanding of the driving forces behind each initiative. It's not just about completing tasks; it's about knowing why those tasks matter and how they contribute to the overarching goals of the business.
The VMO takes a holistic approach to value realisation. It helps teams establish clear measures for success, so they know exactly when an initiative is delivering value and when it's time to pivot or conclude efforts. This approach safeguards the organisation from investing heavily in initiatives that may not yield the expected returns, promoting a mindset of validating hypotheses and delivering value incrementally.
To execute its mission effectively, the VMO leverages Lean and Agile Ways of Working. These methodologies provide the flexibility and adaptability needed to pivot swiftly in response to changing circumstances while always keeping the focus squarely on the VMOs core values (see table below):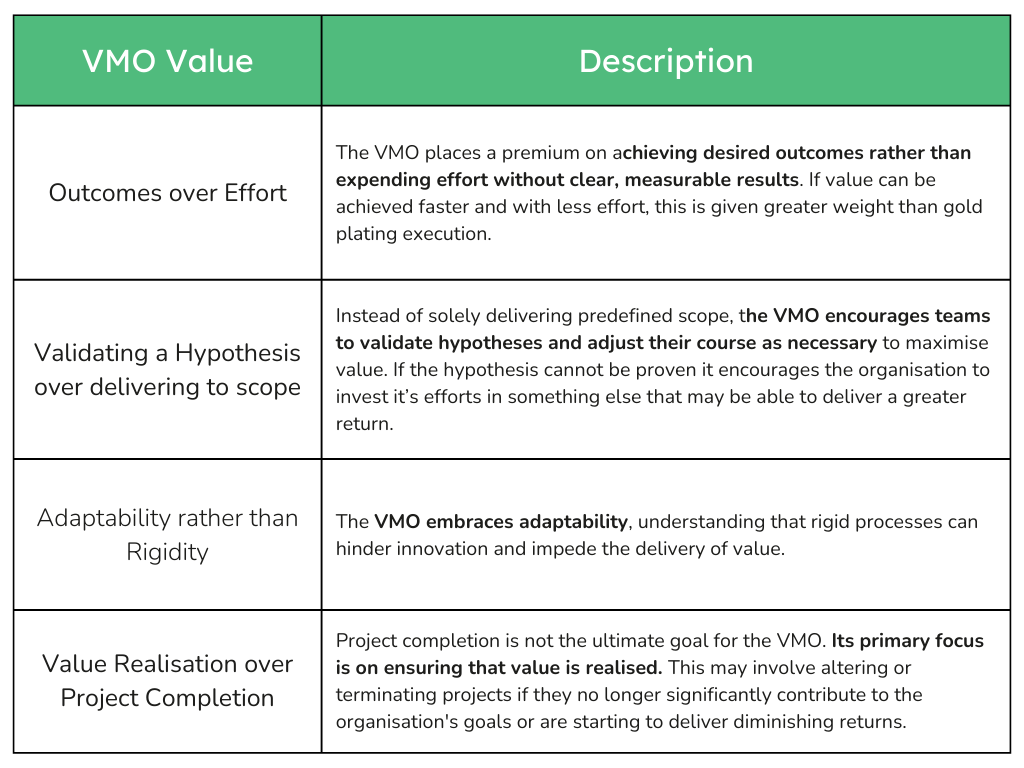 In essence, the VMO is the driving force behind a culture of value stewardship, championing the principles that prioritise value realisation, adaptability, and continuous improvement. This means that the VMO itself needs to be constantly looking for ways to improve its own processes and operations, eliminating waste and streamlining wherever possible to achieve the highest value with the least amount of overhead.
Helping you to make the transition from PMO to VMO
We understand that the transition to a VMO can be a challenging process, but it is necessary to remain competitive in today's business environment.  At EPiC, we have developed a VMO advisory service that is designed to provide organisations with the processes, tools and support they need to make this transition. Find out more…
Enter your details below to enquire about a free consult with one of our specialists.
* This offer is available for new clients only.
Thank you! A team member will be in touch with you shortly
Complete!