Thrive in today's fast-paced business landscape
At EPiC, we take pride in being your compass, guiding your organisation's journey through the complexities of business transformation.
Our comprehensive capabilities leverage a variety of methodologies, including the Enterprise Business Agility (EBA) model, Scaled Agile Framework (SAFe), Lean, Agile frameworks, and our Spotify-inspired Crew model, designed to equip your enterprise with the agility and efficiency necessary to thrive in today's fast-paced business landscape.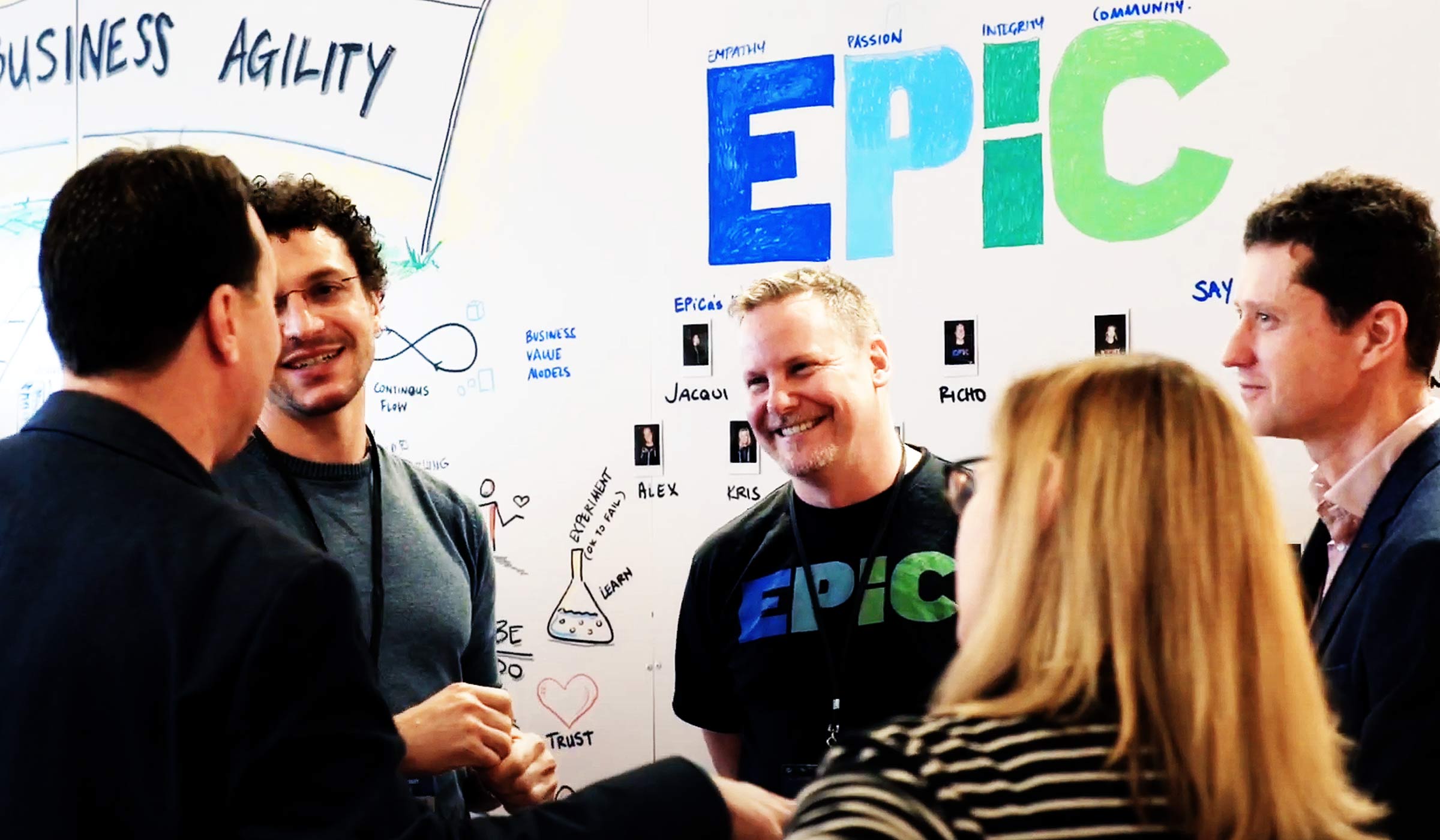 Our Services
At EPiC, we understand that change is a constant in today's fast-paced business landscape. Whether it's implementing Agile frameworks, fostering a culture of innovation, or developing Agile leadership capabilities, our team of experts are equipped to guide our clients through their unique transformation journey in two distinctly different ways:
Shift™
For organisations poised to redefine their entire operational paradigms, EPiC's Shift™ Transformation service integrates frameworks, such as SAFe, EPiCs Crew model (inspired by Spotify), and the Enterprise Business Agility Model. Our deliberately different approach establishes robust guardrails to not only ensure the full benefits of these transformative changes but also to systematically mitigate associated risks.
Evolve™
For organisations aiming to elevate their performance and instigate change without the extensive disruption and investment associated with full scaled Transformation, we introduce EPiC's Evolve™.
Designed with an emphasis on incremental, targeted change which is underscored by simplicity, scalability, and efficiency, this approach circumvents the prohibitive costs and upheavals typical of at-scale business transformations.
Full-Stack Transformation Capability
We prefer our clients provide the majority of the Transformation "heavy lifting" but we acknowledge that they won't have all of the knowledge & experience necessary to take on such important tasks. That's why EPiC has developed, trained and put to the test some of Australasia's best Transformation Talent. We can provide:
Transformation Leads –

Our seasoned Transformation Leads steer the helm of your transformation voyage. They craft the vision, articulate strategic objectives, ensure alignment amongst stakeholders and orchestrate the transformation process to fruition.

Change & Communications –

Our dedicated Change & Communications team addresses the human facet of transformation. They devise and roll out comprehensive change and communication strategies and plans that engage employees, foster a sense of ownership, and minimise resistance to change.

Delivery Coaches –

Our coaches serve as mentors, guiding your teams towards embracing agile ways of working. By instilling agile principles, values, and practices, they foster a work culture grounded in continuous improvement.

Leadership Agility Experts –

With a keen understanding that transformation begins at the top, our Leadership Agility experts coach leaders to embody and demonstrate agile leadership behaviours. They work closely with executives and managers, empowering them to lead the change effectively and drive the transformation process.

Training and Courseware –

We deliver a suite of training programmes and courses designed to enhance your team's skill sets. Covering a spectrum of topics from fundamental agile concepts to advanced transformation strategies, we prepare your teams for the future state of the organisation.

Delivery Experts –

Our Delivery Experts act as the driving force behind your transformation. They design, implement, and optimise your delivery process uplift, and then lead the way, facilitating a smoother, more efficient workflow across your organisation.

Lean Organisation Experts –

Our Lean Organisation Experts work to streamline your organisational structures and processes. By eliminating waste and bolstering efficiency, they model and instil lean behaviours within your organisation.

Org Design & Target Operating Model Specialists –

Our experts collaborate with senior executives & lines of business to evaluate the existing organisational structure and pinpoint areas for enhancement, aligning it with the organisation's strategic long-term goals. They craft efficient workflows, delineate roles, and institute lean governance frameworks. This work serves as a foundational blueprint for the organisation, reducing costs, facilitating adaptability, continuous improvement, and long-term benefit realisation.
With EPiC, you have more than just a service provider – you gain a partner dedicated to your success. We offer a full-stack transformation capability, moulding your organisation to adapt, evolve and shift into the modern business landscape. Choose EPiC to achieve your transformation outcomes and navigate your path to a leaner, more agile future.
Stronger alignment with strategy
Read the case study
Faster decision making and collaboration
Read the case study
Adopt and embed new ways of working
Read the case study