A transformative model without the disruptive overhead
At EPiC, we understand that change is a constant in today's fast-paced business landscape. Whether it's implementing Agile frameworks, fostering a culture of innovation, or developing Agile leadership capabilities, our team of experts are equipped to guide our clients through their unique transformation journey.
Organisations seeking to improve their business agility often turn to Agile Frameworks, but these frameworks can be overwhelming and take years to implement. So, for organisations aiming to elevate their performance and instigate change without the extensive disruption and investment associated with full scaled Transformation, we introduce EPiC's Evolve™. 
Designed with an emphasises on incremental, targeted change which is underscored by simplicity, scalability, and efficiency this approach circumvents the prohibitive costs and upheavals typical of at-scale business transformations. By experimenting with minor changes (Agility Patterns), organisations can quickly identify and overcome challenges, reducing the risk of change, promoting innovation and encouraging ownership.
Unlike frameworks like Tribes and Scaled Agile Framework which can add layers and complexity to an organisation, EPiC's Evolve System provides a deliberately different approach to change. This model focuses on simplicity, scalability, and efficiency, eliminating the costly and disruptive overhead typically associated with large-scale transformations.
Evolve targets specific challenges and leverages a library of proven change patterns, to address the immediate issue, ensuring that our clients achieve their desired outcomes without unnecessary complexity. EPiC's Evolve, brings together the best practices and methodologies of traditional transformation approaches but in a tailored targeted fashion, that meets needs and goals of our clients and doesn't impact everything else in the process.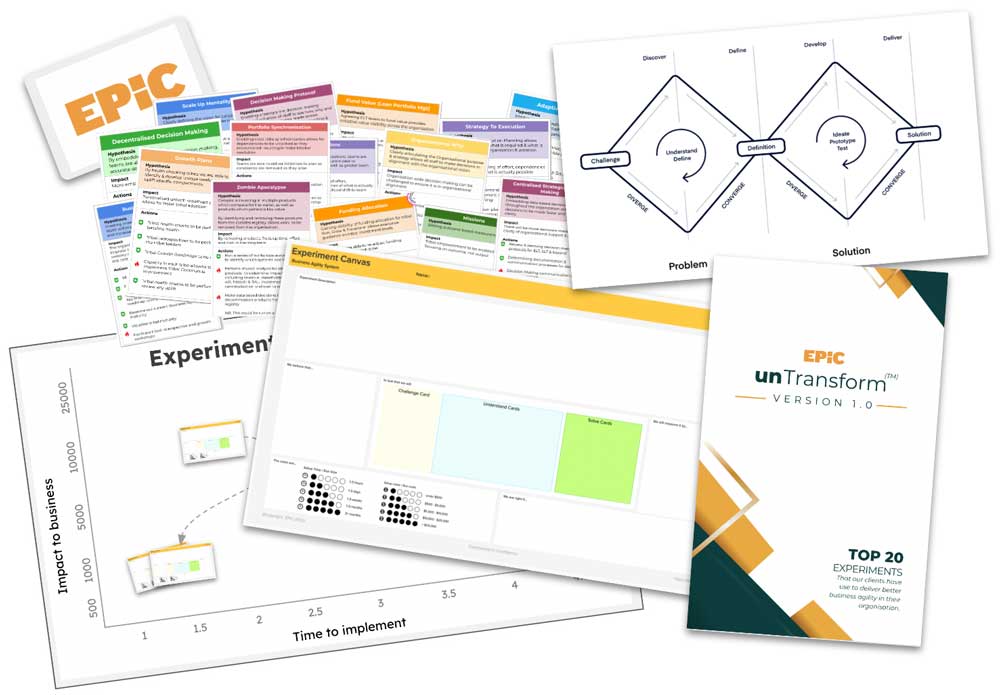 Our Transformation Services encompass a range of offerings, including:
Transformation Strategy Development –

 We work closely with our clients to define their transformation vision, goals, and roadmap. Our experts help organisations navigate the challenges and opportunities of change, ensuring alignment with business objectives and desired outcomes.
Change Management and Execution –

We provide end-to-end support in managing and executing change initiatives. Our team collaborates closely with stakeholders, facilitating workshops, and providing guidance on change implementation, communication, and stakeholder engagement.
Agile Coaching and Training –

 Our experienced Agile coaches provide guidance, training, and mentoring to teams and leaders, enabling them to embrace Agile practices and mindsets. We empower organisations to become more adaptive, responsive, and customer-focused in their approach.
Continuous Improvement and Scaling –

 We help organisations embed a culture of continuous improvement, enabling them to continuously evolve and scale their transformation efforts. By fostering a learning mindset and implementing feedback loops, organisations can achieve sustained success.
With EPiC's Transformation Services, you can unlock the full potential of your organisation. Our integrated approach combines the simplicity and effectiveness of the Evolve™ model with the proven methodologies of Business Agility Transformation, ensuring that your transformation journey is successful, impactful, and tailored to your unique needs.
Rob Gaunt, Global Director - EPiC Agile
"Our services are designed to help organisations navigate the complexities of change, delivering impactful results with simplicity, speed, and adaptability without all the cost."